This shop has been compensated by Collective Bias, Inc. and its advertiser. All opinions are mine alone. #nothinglikeahug #CollectiveBias
Traveling with young kids is an absolute dream.
Nothing unpredictable ever happens. Everything is always smooth sailing. Idyllic is a word I would use to describe it, honestly.
Y'all. Of COURSE I'm kidding!
Traveling with kids under 5 is right up there with school picture day as one of the most stress-inducing parts of the parenting journey. You're suddenly out of your element and open to forces that you have no control over.
One of the most overwhelming parts of traveling with young kids? Trying to figure out what to do with little ones who still in diapers. 
Will that coffee shop bathroom have a changing area?
What do we do if it doesn't? 
How many diapers and wipes should I pack? 
What if we run out?
What if a diaper needs to be changed and we are IN THE MIDDLE OF NOWHERE?!
These are the kinds of questions that race through the minds of anxious parents just before traveling with their kiddos.
If that sounds like you right now, you're in the right place! These tips will help you rock a diaper change (and maintain your sanity) while traveling.
How to Rock Diaper Changes While Traveling (Without Losing Your Mind)
1. Stock up on supplies
The most important key to rocking diaper changes while traveling is not leaving the planning until the last minute. Start early so you can feel calm and fully  prepared to go when you hit the road.
Key items to stock up on include:
We like to save ourselves a little bit of time and money by stocking up on diapers and wipes at Sam's Club before traveling. You get great bang for your buck, and they have the best value on Huggies® diapers and wipes—a brand that moms can really trust, especially during those long car rides or plane rides.
If you're getting ready for some holiday traveling, now is the perfect time to stock up at Sam's Club because they are running a Limited Time Instant Savings offer on Huggies diapers, wipes, and pants this holiday season—woohoo!
Take advantage of Sam's Club's already low prices and save money (and time) by stocking up before you travel. When you buy any 2 Huggies at Sam's Club, you'll get $8 in Instant Savings (now through November 22, 2017). PLUS, there's a current Ibotta offer that will get you $4 in additional savings. That's some serious savings, y'all.
You can learn more about the money-saving offer here, and you can shop two of our very favorite Huggies go-to products (Huggies® Little Movers and Huggies® Natural Care Wipes) through the image below.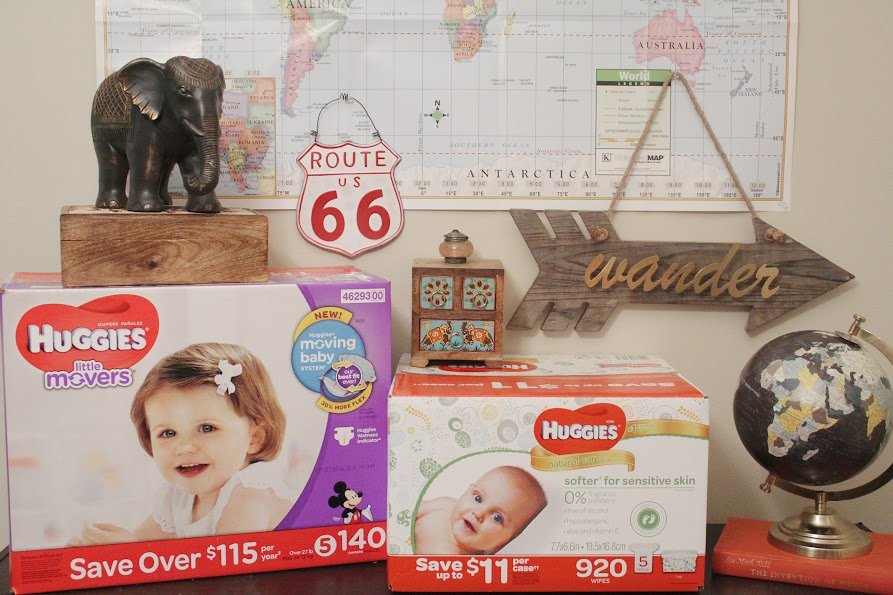 2. Create the perfect diaper-changing travel kit
While it's super smart to have extra supplies on-hand, you'll also want something that's quick and easy to grab. Enter—the perfect diaper-changing travel kit!
If you already have a beautifully-stocked, picture-perfect diaper bag on hand, you can absolutely use that as your diaper-changing travel kit. However, if you're more of a "diaper in the purse" kinda gal (like me), read on. I've got you covered. 😉
Your perfect diaper-changing travel kit should include:
Diapers

Wipes

Diaper Rash Cream or Ointment

Portable Changing Pad

Antibacterial Hand Sanitizer

Sanitizing Wipes

1-2 old towels/blanket (more on this in tip #4 below)
3. Get a "change in the car" plan ready (just in case)
Sometimes when you're traveling on the road, diaper situations will arise at the worst. possible. time.
Having a "change in the car" plan can help reduce stress when the unexpected happens. 
The ideal place to change in the car is usually on the back seat. If you have space in the back seat of your vehicle, grab your diaper-changing travel kit, lay that portable pad down, and get to changing.
However, if your back seat has multiple car seats (like ours) or your vehicle makes it tricky to access (2-door vehicles, for example), the front seat may be the better option.
If you're baby is still small, you should be able to change her or him with no real trouble. If you're dealing with a larger, more mobile baby or toddler (like we currently are), bringing along a full-sized changing pad from your changing table at home could be a real sanity-saver. We keep ours in the trunk of the car while we travel. It may seem silly, but when we end up having to change diapers in the car unexpectedly, maaaaan are we glad to have it.
Depending on the weather, the location, the time of day, your vehicle, and the mobility of your child, you may also be able to pull off a successful diaper change on the hood or trunk of your car. If you go with this option, make sure you always take safety precautions to make sure your baby doesn't roll off the car. (We use a two-parent approach—one full time "baby spotter" and one diaper change.)
4. Grab a few "There's no changing table in here!!!" supplies
Did anyone else get a whole bunch of cheap, thin baby towels as baby shower gifts? We sure as heck did. I absolutely hate using them at bath time because they don't absorb water well and our kids are always shivering from the air flowing through the thin material.
Instead of using them at bath time , we keep them on hand in our diaper bag. Yep! These towels actually make the perfect little thing to throw down on a bathroom floor when there is no changing table available.
Towel for you to kneel/sit on. Towel under a portable changing pad (if you've got one) for a little added cushion for baby. Voila! No sitting on the gross floor. No having to put your sweater or a nice baby blanket down. You don't have to invest in "another baby thing". The towels can be easily washed and reused. Win, win, win!
5. Don't Stress
Whatever happens out there on the road with your diaper changes, remember to breathe. It can get stressful, but you've got this.
Bring the supplies. Make the plans. Do the best you can. And grab yourself a really big cookie if everything falls apart in the moment. 😉
Do you have any great tips for successful diaper changes while traveling? Let me know in the comments!